Why usability testing matters for the next generation of fintech products
The members of the Innovate Financial Health accelerator share lessons learned through GRIT Toronto's inclusive usability testing service.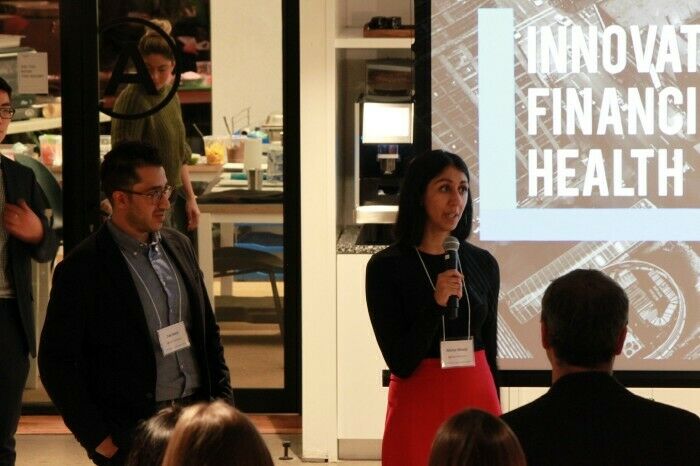 The days of a predictable financial journey — from first job, to first car, to first home — are long behind us. Today, only 54% of Canadians report having some kind of financial plan. Temporary employment has risen consistently year over year for nearly a decade, and as property costs in major cities balloon, a growing number of residents are more likely to rent than own their homes. With so much in flux, financial planning can be difficult to do with any certainty, which may be why so many people don't do it at all.
Tech entrepreneurs aren't new to building money management tools, but a vast majority of those tools are geared towards people that already have savings. What might innovative financial products look like for the underserved majority?
Elvis Wong had this challenge in mind when he founded Innovate Financial Health (IFH), an accelerator for socially minded entrepreneurs building tools for people with all levels of income.
"So think of people living paycheque to paycheque — which is almost half of Canadians — people with low incomes, or newcomers. These are the different demographics that can be particularly financially vulnerable. Innovate Financial Health believes there needs to be people in the fintech space considering the needs of regular Canadians," Wong says.
To help the accelerator's first cohort build in the right direction, Wong brought GRIT Toronto to meet with IFH's first four ventures: AltruWisdom, PolicyMe, Quber, and Zayzoon. Together they explored how GRIT Toronto facilitates usability testing that's inclusive, and looked at ways each company could safeguard against the roadblocks of undertested tools, like trouble scoping the needs of users they're unfamiliar with.
"GRIT Toronto allows entrepreneurs to really expose themselves to a more representative sample of people. It helps them see their own biases and makes it so their products are more inclusive." says Wong. As fintech tools grow to serve a wider spectrum of financial situations, usability testing that's inclusive helps companies make informed decisions about their product offerings.
"Our goal is to provide financial advice for all Canadians," says Zakir Kanji, co-founder of altuWisdom. His team's service helps prepare Canadians for the financial ramifications of unexpected life events, like the death of a loved one, or a divorce. "How can we be sure that we're reaching all Canadians without rounds of usability testing that reflect the population?"
PolicyMe, a service that uses AI to simplify finding the right life insurance policy, had done a form of usability testing before. They surveyed existing clients, incentivizing them to answer questions about their PolicyMe experience with gift cards. The information they got was useful, but didn't paint a full picture of how prospective users might interact with their product — a useful thing to know while planning inroads into groups outside the ones they've already converted. After creating a personalized, inclusive test plan during the workshop, Chloe Cheung, a PolicyMe team member, said the GRIT Toronto user testing pool challenged her idea of how many different types of users might be interested in PolicyMe.
"The kind of user testing we did before gave us information that's different from what we learned during the GRIT session. Essentially, we learned that we didn't include a lot of diversity even though we thought we did initially," Cheung said. "Generally, when we thought about diversity, we probably thought of factors like gender or race. But we learned there's actually a lot more to think about when doing testing, like the level of education a user might have, or how tech savvy they are, their income, disabilities et cetera."
Inclusive usability testing, when done early and often, can help teams create a tool that has significant reach. "In order to be able to take that financial risk of starting a startup, you're probably coming from a more privileged background yourself. So you don't necessarily have the understanding of the challenges that people you want to support actually face. Something like GRIT allows for more of that exposure for an entrepreneur," Wong says.
As the teams in IFH's first cohort build their services, they position themselves to give much needed support to Canadians facing tumultuous financial realities. By testing their products with a diversity of users along the way, they can ensure they're building tools that are truly useful to the people who need them the most.


The Innovate Financial Health cohort isn't the only group using GRIT Toronto to prove the technology they're developing resonates with the people they want to reach. Check out the learnings from the Chalmer's Bot GRIT Test, and the StreetARToronto web map beta. Think a GRIT Toronto collaboration could be right for you? Find us here.
The Latest
From the Code for Canada Blog