Notes from 2017 fellowship onboarding

December 1, 2017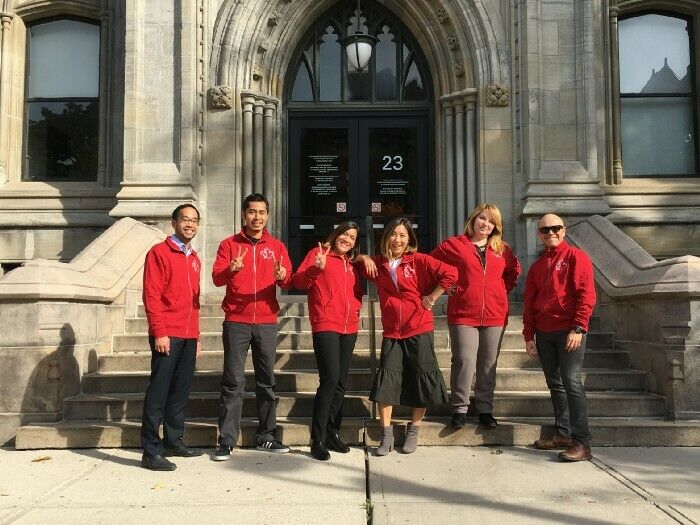 The inaugural Code for Canada fellows have touched down with their government hosts after four weeks of onboarding. While it's tempting to look ahead toward everything the fellows will accomplish, we think it's equally important to look back at onboarding itself. When we were designing training, we started by doing research with our friends from Code for America, Code for Australia, and other members of the Code for Allnetwork that run fellowships. We also did some inquiry into the onboarding processes for other fellowships and related programs in Canada, like the Studio Y Fellowship at MaRS and several public service recruitment programs. Based on what we learned, we knew onboarding would be crucial to setting up our fellows and their government hosts to do great work together.
Here are a few things we prioritized:
Giving everyone the tools they need to get to impact fast
The fellowship only lasts for ten months. It may seem counterintuitive to spend four weeks on onboarding, but we expected devoting time up front would accelerate the work fellows and their government partners would be able to do during the remainder of the fellowship. By the end of onboarding, we wanted fellows to understand how things happen inside government: how decisions are made, what characteristics do successful digital transformation projects in government share, and just what all those acronyms mean? Similarly, government partners should leave with an understanding of the "why" and basic "how" of methods like user research, agile development and prototyping.
Enabling knowledge and cultural exchange
The fellowship brings together people from two very different work cultures and backgrounds. Onboarding serves as the anchor for knowledge exchange between fellows and their government hosts. We wanted onboarding to enable the best part of both cultures — the tech sector's relentless focus on the user, embrace of agile development practices and willingness to fail fast, and government's commitment to public good, as well as its high standards of accountability and transparency — to mesh together.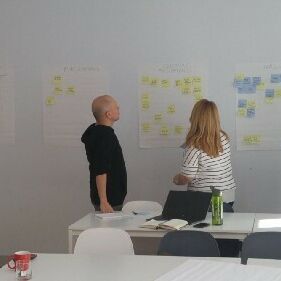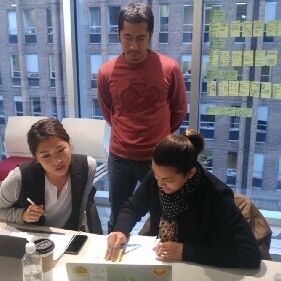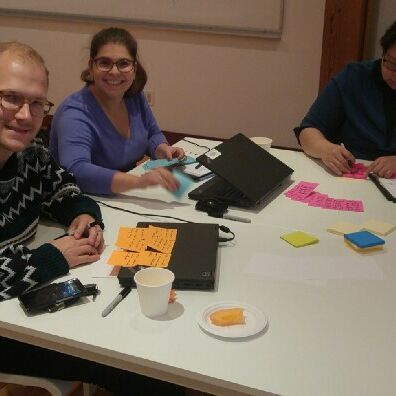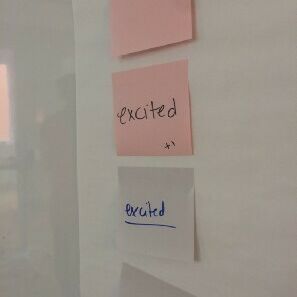 Designing the right experience
In order to reach impact fast and enable knowledge exchange, Code for Canada made several intentional design decisions when planning onboarding:
We brought everyone together to build understanding and trust
Fellows spent four weeks with us, and were joined in the final week by their government hosts, including staff from the Ontario Digital Service and Ministry of Advanced Education and Skills Development, as well as the Canadian Digital Service, Veterans Affairs Canada and Immigration, Refugees and Citizenship Canada. We know that everyone is an expert in something, and we designed opportunities for fellows and hosts to demonstrate their expertise to each other. Fellows introduced hosts to the their work through a demo day, while hosts began getting fellows up to speed on their work contexts through a stakeholder mapping exercise. The fellows told us how valuable it was to get to spend dedicated time with the people they'll be working with, and public servants said they appreciated the opportunity to meet government innovators from other departments, agencies, and ministries.
We provided opportunities for formal (and informal) team building
If recruitment was about finding the most talented and mission-driven fellows, then onboarding was all about priming them to work together effectively. We knew onboarding had to include opportunities for fellows to practice working as a team, and also get to know one another as people, not just professionals. This meant providing dedicated time for fellows to develop team norms and expectations. It also meant planning for shared meals, travel, and reflection.
We focused on experiential learning
Whenever possible, we wanted fellows and government hosts to learn by doing. We sought out presenters and facilitators who deliver hands-on workshops. Fellows practiced negotiation and communication with David Eaves and Misha Glouberman, refined their service design skills with Jess McMullin, and completed a sprint based on a real challenge presented by their government partners. All of this meant that the learning was more than theoretical — it was deeply practical.
We listened to those who have done — and are still doing — this work
Fellows relished getting the opportunity to speak first hand with others doing digital government work. We brought in experts like Dan Hon, who led Code for America's work overhauling the California child welfare system, Liz Odar from the United States Digital Service, and Hillary Hartley, Ontario's Chief Digital officer and a former Presidential Innovation Fellow, to share their experiences with fellows. We also took fellows to the FWD50 digital government conference; it was a great travel and team-building experience, but also an opportunity to network with government innovators from across the country. Fellows also arranged a video call with a group of Code for America fellows, who were just days away from completing their own fellowships! Fellows consistently remarked that the opportunity to connect with people who could share "behind the scenes" stories of digital government was deeply valuable.
We were iterative and reflective
Feedback, reflection, and iteration was built right into our plan. In addition to formal surveys, we held regular retrospectives with fellows to get their feedback on what was going well and what could be improved. Based on what we learned, we made in-flight adjustments to better meet fellows' needs (and in cases where we couldn't make adjustments this year, we took notes for when we plan onboarding again in the future).
So how did it go?
We're still collecting data about how things went, and of course the full impact of onboarding won't be clear until fellows and their government partners have spent more time working together. In the meantime, here are some takeaways from the month:
An expected win
During our group retrospectives, fellows consistently told us how much they valued the opportunity to meet and learn from the guests we brought in. Going forward, we'll be sure to maintain that aspect of onboarding.
Unexpected win(s)
When we were planning the last week of onboarding, we were mostly thinking about the benefit of having fellows and their government hosts meet one another. What was immediately clear, though, was the added benefit of connecting innovators from different levels of government. Hosts shared lessons, brainstormed solutions to shared challenges, and connected to each others' projects. In the future, we'll plan to design onboarding to further amplify the benefit for our government partners.
Another fun win was how effective the Code for Canada track jackets were for team building! As soon as they got them, they put them on immediately, took photos together and joked about being an Olympic team.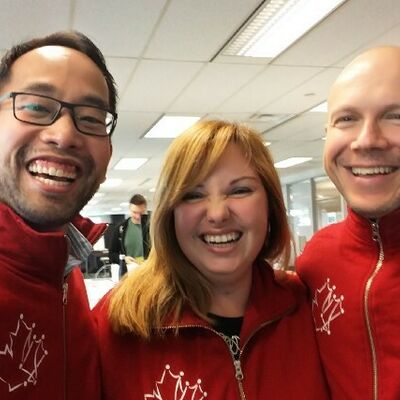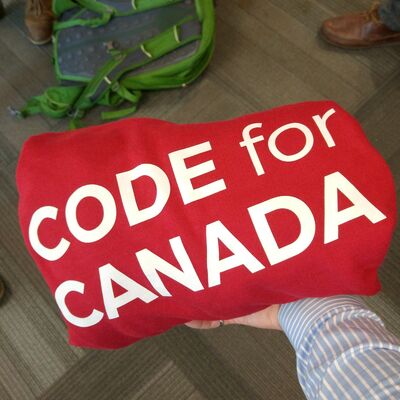 Lesson learned
Onboarding was designed to prepare fellows to manage themselves effectively. Our inaugural onboarding was highly scheduled, but in the future we'd like to offer more flexible time, especially towards the end of the month. This would enable fellows to take the reins and prioritize their own learning together. Fellows could teach one another aspects of their own toolkits, or take more control over the time they spend with government partners.
Looking ahead
One of our tasks now is to plan for how to extend the impact of onboarding throughout the year. Fellows told us how much they valued being together as an entire cohort, and with the teams spending most of their time hours apart from each other, getting back together as a group will take some planning, but it will be worth it. After all, the fellowship is designed to enable knowledge exchange, not just product development.
We'd like to thank all of the guests who participated in onboarding, including Anatole Papadopoulos, Hillary Hartley, Sameer Vasta, Kent Aitken, Matt Thompson, David Eaves, Idil Burale, Peg Lahn, Dan Hon, Jane Taber, Asher Zafar, Jess McMullin, Laura Wesley, Liz Odar, Andrew Lovett-Barron, Misha Glouberman, Marc Hebert, and the 2017 Code for America fellows.
We'd also like to thank all of our onboarding venue hosts including HackerYou, Pivotal, Impact Hub Ottawa, Shopify, Canada Learning Code, and TWG.
The Latest
From the Code for Canada Blog