Is Your Team Ready to Build an Alpha?

September 24, 2020
Meet Wally. Wally has over 20 years' experience as Chief Mate on a 500-tonne vessel. He comes from a long line of seafarers, and is currently looking for his next employment opportunity. Recently, Wally's union called to offer him a position pending a medical examination. To complete the examination, Wally needs to find a nearby marine medical examiner (MME).
To be examined, Wally would have an appointment with someone like Martha. She is a physician who conducts medical exams on behalf of Transport Canada as a marine medical examiner. After conducting an exam, Martha fills out a medical report and mails it from her office in Vancouver to marine medical headquarters in Ottawa for processing and approval.
In the meantime, a seafarer like Wally is granted a provisional medical certificate which will expire in six months. Martha receives correspondence in the mail from TC following up on her submitted reports, often asking for more information — thereby delaying the processing and approval of the longer two-year medical certificate.
"During the fellowship, the challenge before our team is to sort through all of these pieces to help TC optimize their application process. Because of all the moving parts, our challenge wasn't only to figure out what to build as a minimum viable product (MVP), but what to build first."
In Ottawa, Andree-Anne works in marine safety headquarters reviewing seafarer candidate applications for certification. If any piece of the puzzle is not completed, like the medical examination, she'll have to inform the candidate via mail that their application is incomplete.
Wally, Martha and Andree-Anne's experiences point to just a few pieces of what make up Transport Canada's seafarer certification process. It's complex, multi-layered, and includes several different stakeholders. During the fellowship, the challenge before our team is to sort through all of these pieces to help TC optimize their application process. Because of all the moving parts, our challenge wasn't only to figure out what to build as a minimum viable product (MVP), but what to build first.
Making Sense of the Puzzle Pieces
Working on a project of this scope was new to many of us on the team. We were used to working in a more clearly defined problem space, for the most part. Because of that, we put plenty of energy into strategizing the way forward. We started with research, which involved numerous surveys and interviews with headquarters staff on both the marine and the medical sides of the certification process, as well as regional office examiners, and a wide range of seafarers.
We ended up with a wealth of data, and through that data, it became clear to us that a single MVP would not address all of our user needs. The needs of seafarers like Wally during the certification process are vastly different from Martha or Andree-Anne's. As we strategized, the solution was looking more and more like a digital product suite as well as a service transformation.

"An integrated set of tools and standardized services that evolve to meet the changing needs of users, leaving them feeling empowered through ease of use and efficiency."
We needed a way to sort through all of the data and reach a decision on the way forward for alpha and an MVP. We knew there would be a lot of viable directions to go in, so we used a comparison framework to help us make sense of the information in front of us. Once the information was organized, our task was to come up with data-informed options along with recommendations, which we shared with stakeholders and our government partner panel.
To unpack the options, we conducted an ideation session with the larger community within marine safety. This involved creating product concepts for feedback from the group. Out of this session we came up with 10 distinct product ideas. After this we held an interactive session in which we compared and scored the products against a number of criteria.
A Decision Making Matrix
Accessibility: Are there accessibility concerns with the concept? How difficult will it be to make it accessible?
Usability: Can users use it safely, easily, even enjoyably? Are there any potential usability concerns?
Producibility: Can the concept be designed, developed, and deployed easily, quickly, and robustly?
Maintainability: Can the concept be maintained easily and well? How inconvenient is maintenance to users?
Sustainability: What impact does the design impose on the organization? What is the likelihood of adoption?
Impact/User Value: Does the concept potentially offer value to multiple stakeholders?
Scoring Scale — Value: Meaning
1: The concept does not satisfy the product characteristic
2: The concept satisfies the product characteristic to a small extent
3: The concept satisfies the product characteristic
5: The concept satisfies the product characteristic to a significant extent
8: The concept exceeds the product characteristic, is ideal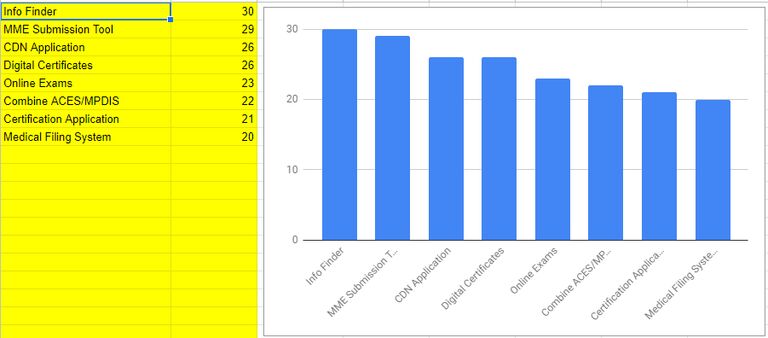 Based on this exercise, we debated as a team which 3 product concepts to recommend to our stakeholder panel with the goal to reach a decision on the way forward for an MVP.
We settled on three ideas:
Medical Exam Submission — a tool marine medical examiners could use to digitally submit medical reports
Information Finder — a tool that staff and seafarers could use to look up requirements for what is required for certification
Document Submission/Certification Application — a tool that would allow seafarers to submit required documents for certification.
Leveraging our stakeholders to reach a decision
Next, we held a prioritization session with our panel as we completed the last sprint of our discovery phase. During the session, we presented what an MVP might look like for each potential product. We also talked about the advantages and the challenges of each, and about what user needs each option would meet. Working together as a team and with our stakeholders, we were able to narrow down all our prospective directions to a final decision — to build the document submission tool as our MVP!
Next Steps
We are now in the process of ideating what the user flows for such a product might look like. Early prototypes are focusing on the ability for seafarers to be able to upload documents that will contribute to their certification application. We want to build fast, do usability testing, iterate, repeat, and grow.
Choosing a direction for our challenge was difficult. Daunting, even. But by taking the time to do research and breaking the service down into clear parts, we were able to provide tangible product concepts, backed by data.
No word as of yet if Wally will pass his medical and ship out. With this new tool, and hopefully others to come, Wally and others like him will be able to quickly and easily submit medical results online and become certified faster.
The Latest
From the Code for Canada Blog