How to build cross-functional teams remotely with Transport Canada

July 15, 2020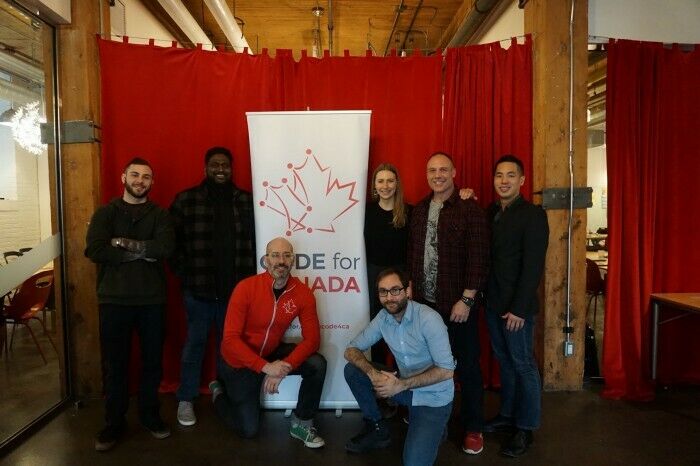 Imagine you're sitting in a cabin, warm and cozy over a wooden furnace. Have you ever thought about how those logs got delivered to such a remote location? Or maybe you're a business owner who exports goods to your customers in the U.K., have you ever stopped to wonder how those goods make their way across the pond? The answer is Transport Canada's Marine Transportation services. They're at the heart of our national and international trade, and being a country with three coastlines, their work provides a vital link between Canada and the rest of the world — accounting for about 20% of all Canadian imports and exports by dollar value. Marine shipping is also a direct and indirect source of income for nearly 100,000 jobs.
Handling all that precious cargo is a big responsibility. And the people who work on marine vessels undergo extensive training to become certified for proper handling and transportation of those goods. Our fellowship team — Kay (UX designer), Keith (product manager), and Alex (developer, that's me!)— is embedded with Transport Canada Marine Safety (TCMS), and alongside their Digital Services Directorate (DSD), we're exploring how to improve that essential seafarer certification process.
Before we dove into our challenge, we allocated a significant amount of time to setting up how we were going to work as a team. In addition to us C4C Fellows, the team is made up of seven Transport Canada staff, including a product owner, scrum master, junior user experience designer, and four developers. Successfully navigating our work as such a large core team requires us all to be intentional in how we foster cross-functionality between the groups — especially with everyone working remotely!
Successfully navigating our work as such a large core team requires us all to be intentional in how we foster cross-functionality between the groups — especially with everyone working remotely!
We've learned a lot of valuable lessons in team-building, and true to C4C form, we'd like to share learned about setting up a team with you!
1. Define team roles and responsibilities
Our first focus was figuring out how 10 people would collaborate on this challenge effectively. Setting the foundation for a team working together is an important stage in group development, to pass from forming to storming to norming and finally, performing (see Tuckman's stages of group development.)
Our core team started by specifically defining the responsibilities of each role. We created lists individually, then came together and merged our ideas into a final description with input from each teammate's list of ideas. This allowed for each teammate to take part in developing their own job description which is empowering, and it also set clear expectations about what other teammates were responsible for from the very beginning. Especially in a remote setting, this type of delineation is very important.
2. Come up with your team's values together as a group
Values help guide the team and surface what is important to the group as a whole. Keith led a brainstorming session with all 10 teammates, both from C4C and TC. We underwent a similar process as in Step 1, where we combined individual lists and scored responses to create the final version of our team values. Here's the latest version.
We reflect our values in the work that we do, so this was an important part of laying the foundation for our time collaborating. Surfacing what's important to us as individuals, and learning what's important to our teammates, is a valuable framework for approaching our work together. We ended up with a useful artifact that will help us get clear on ways forward during hectic or challenging moments by reminding us of the team vision.
3. Establish norms for working and communicating
With our team responsibilities established and our values as a North star, the last piece we needed to get started was alignment on things like:
Expectations for working from home
Core team hours, which is the time block that everyone agrees to be available for meetings
The tools we use and how we use them
No meeting Fridays — a team favourite!
Given the current situation, setting expectations around work and communications is important, because everyone's days look different in light of coronavirus. We maintain working documents where these norms live, and we invite teammates to update them asynchronously to cut down on meetings.Coming up with our norms for working and communicating was a great bonding experience, and it also helped us understand what each teammate needs in order to do their best work.
We also got creative with communication to allow for flexibility; we're doing things like creating video recordings to share information, and gathering team feedback via surveys
4. Leverage skill sharing
Sharing is caring, at least when it comes to skills! We had established early as a team that we wanted to share our collective knowledge with each other in order to build up everyone's skill sets, so we took time to share expertise from all 10 teammates in an effort to have us all starting from a similar knowledge base at the outset of our challenge. We did training in Agile 101, Research 101, and Product Management 101 — which Keith has gone on to present to other government teams as well!
Sharing our respective skills helped contribute to our team's overall goal of learning from one another's strengths, and allowed us to benefit from one another's expertise, which aligns with our team values.
Getting the work done
You may still be wondering how this folds into the larger project we're taking on. The answer is that all of the early discovery has set us up with strong rituals that we're using to organize our work moving forward. Our whole team has pulled together quickly and we've set solid foundations. Now our crew is looking forward to getting our hands dirty in our problem space and sharing what we learn and do along the way!
The Latest
From the Code for Canada Blog