Webinar: Virtual Team Collaboration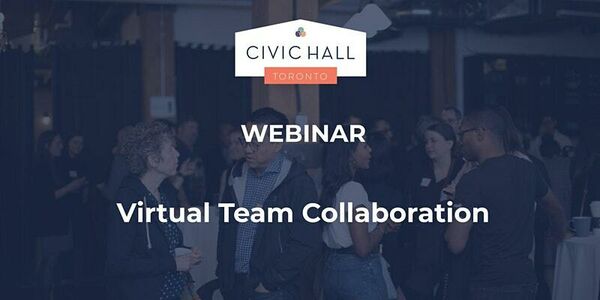 Event Details
Date & Time
January 13, 2021
12:00pm - 1:00pm
Location
Civic Hall Toronto
Register
Navigating the virtual work environment can be challenging. How do you keep everyone in the loop? How do you foster a sense of inclusion and excitement within your team, while you can only see each other as tiny blurred pixels?
Led by Maddy Ewins (Code for Canada) and Raphael Dumas (Big Data Innovation Team, City of Toronto), this webinar will empower you to better harness your collaboration skills, and perhaps reassess and rethink your team rituals.
This webinar will cover a number of day-to-day communication challenges and we'll engage in active discussion about problem-solving tailored to different contexts.

This training series is Open to the General Public.
Training sessions will take place on WebEx and registered attendees will receive the event link prior to the session.
If you have any questions, feel free to contact marzie@codefor.ca.