Webinar: Designing the Participant Experience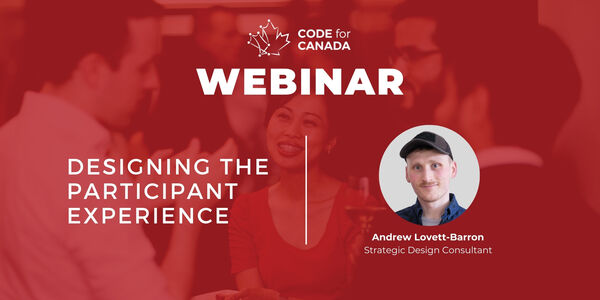 Event Details
Date & Time
July 28, 2021 - July 28, 2021
12:00pm - 1:00pm
Location
Virtual
Register
Learn how you can use service design tools to consider the participant experience holistically and facilitate better research outcomes
Join us Wednesday July 28, 12p.m. ET - 1p.m. ET for our upcoming webinar.

As design researchers, we miss that participant experience can be the key to great data and great research outcomes. By investing in the trust relationship you have with your research participants, you invest in their willingness to engage openly and comfortably with your research and its objectives.
A good participant experience frees participants from the emotional and cognitive toll of being responsible for their own wellbeing and privacy, by providing a tangible demonstration for your care of the same. This talk will be a walkthrough of how we can use the tools of service design to consider the participant experience holistically, and ultimately facilitate better research outcomes by facilitating those needs.
About the speaker:
Andrew Lovett-Barron is a strategic design consultant and founder of Knowsi, the consent manager for qualitative research. Andrew was a principal designer and team lead at IDEO and the first designer on the US Digital Service team at the Pentagon. In 2017/2018, he was a Public Interest Technology fellow with the New America Foundation, and lead design mentor for the Innofounder startup accelerator from 2018 to 2020. He consults on strategic design and software products through Stupid Systems with clients like IKEA, Opentrons, CIID, Innovation Fund Denmark, and others.
📧 Keep an eye on your inbox for the Zoom meeting link — we'll be sending it to registered attendees the evening before the event. We look forward to meeting you there!
❓ If you have any questions or accessibility needs, please contact jennifer.kou@codefor.ca
👋 To stay in touch, sign up for Code for Canada's newsletter or follow us on Twitter and LinkedIn.