Open house: Featuring the Exchange Lab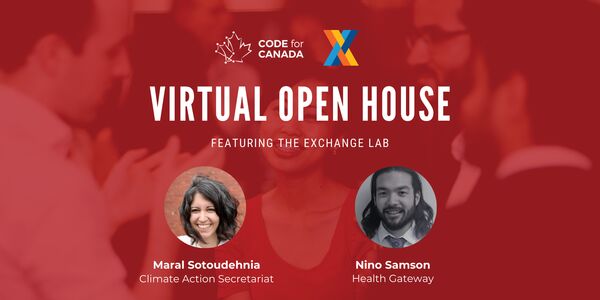 Event Details
Date & Time
May 20, 2021 - May 20, 2021
1:00pm - 2:00pm
Location
Virtual
Register
Open houses are informal opportunities to chat with our team and learn about civic tech! This month, we're featuring The Exchange Lab.
The Exchange Lab is enabling new ways of collaboration between private sector companies, civic technologists and public servants. Together, they're working to improve the public's experience of government. The Exchange Lab has also introduced novel procurement methods through B.C.'s Digital Marketplace, contributing to a burgeoning civic tech startup ecosystem in the province.
Join us Thursday, May 20 at 1:00 p.m. PST to hear from two of The Exchange Lab's teams in residence. We'll start with a lighting round overview of each project, then go into breakout rooms for in-depth discussions and Q&A with the speakers.
Speakers:
Maral Sotoudehnia – Climate Action Secretariat (CAS)
The CAS agile team builds custom, open-source digital services that provide a consistent source of truth for industrial greenhouse gas data collected by the Province under the Greenhouse Gas Industrial Reporting and Control Act (GGIRCA) and the CleanBC Programs for Industry.
Nino Samson – Health Gateway
The Health Gateway is a province of BC initiative with the goal of providing citizens with a provincial entry point for accessing medication, immunization, and health visit information. Working in partnership with the BC Exchange Lab, the Health Gateway follows modern software delivery practices and has benefited from collaboration with other teams across government to leverage re-usable components and shared learning.
Keep an eye on your inbox for the Zoom meeting link — we'll be sending it to registered attendees the evening before the event. We look forward to meeting you there!
To stay in touch, sign up for Code for Canada's newsletter or follow us on Twitter and LinkedIn.