Code for Canada at FWD50 2021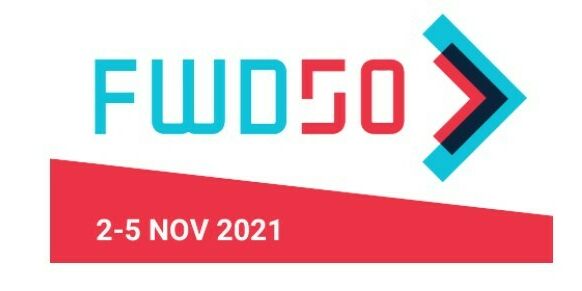 Event Details
Date & Time
November 2, 2021 - November 5, 2021
Location
Virtual
Register
How do we use technology to make society better for all?
After a blockbuster virtual event in 2020 with participation from nearly 30 countries, FWD50 2021 will be a hybrid conference that offers the best of in-person and virtual models. FWD50 events span an entire week of digital government talks, workshops, meetups and networking activities. FWD50 will be announcing a detailed interactive agenda closer to the conference itself, but here's a high-level overview for planning purposes.
Here's what we're presenting:
🚀 Code for Canada Case Studies
The Code for Canada Fellowship is multidisciplinary collaboration in action; teams of three fellows are embedded in the public sector, where they work side by side with public servants to build digital capacity, deliver user-centric services, and demonstrate new ways of working.

Through these case studies, hear from teams who joined their government partners virtually in a pandemic and built digital prototypes to better serve residents. They'll be sharing their process, challenges, and learnings throughout the 10-month program.
Featured case studies
Who should attend?
People looking for tangible examples of digital transformation in government
Anyone curious about Code for Canada or the fellowship
📋 How digital do you need to be? Introducing Code for Canada's digital capacity assessment
How do you assess how digital your team or department already is, and how do you prioritize the skills and capacities that will move you furthest along that spectrum?

This workshop will walkthrough our new Digital Capacity Assessment for government teams. Currently in alpha, the tool helps public servants identify the digital competencies that are most important in their unique contexts.
Speakers
Dorothy Eng, Executive Director, Code for Canada
Merlin Chatwin, Executive Director, Open North

Who should attend?
Anyone working on digital transformation or change management projects
Digital leaders interested in how to better evaluate digital capacity
Staff curious about how digital methods can be used in their work.
💼 From private to public: building a talent pipeline for government technology
How can governments successfully reach people with the multidisciplinary skills needed to drive digital transformation? This chain reaction panel will feature experts in academia, non-profit, and government to provide insights on what draws digital talent to public service and share best practices for government recruitment and retention.

Speakers

Dorothy Eng, Executive Director, Code for Canada
Jonathan Craft, Associate Professor University of Toronto, Founding Director of Policy Ready
Jane Laughton, Head of Talent, Ontario Digital Service

Who should attend?

Leaders and hiring managers interested in expanding digital teams
Managers who want to retain digital talent
Digital champions advocating for in-house hiring