Community Engagement: Nothing For Us Without Us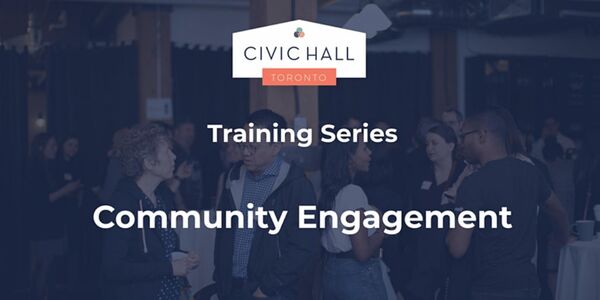 Event Details
Date & Time
April 14, 2021 - April 14, 2021
12:00pm - 1:15pm
Location
Civic Hall Toronto
Register
Join us to learn why community engagement matters and how design-thinking can help you build an iterative practice in your organization
Why does Community Engagement matter?
All residents should have a chance to participate in important decisions and take action to improve their communities. Meaningful community engagement is foundational for designing policies and programs that are equitable, accessible and address the real needs of the communities you are working with. There is a well-known quote: "nothing about us without us."
Who is this training for?
If you want to learn about the foundations of an inclusive community engagement practice in your organization, this session is for you. Led by Lisa Brody Hoffman, this session will walk you through the why and how of community engagement.
What to Expect
In this 75-minute session, we'll learn about the basics of why community engagement matters and how design-thinking can help you build an on-going, iterative community engagement practice within your team and organization. This workshop will incorporate long-term digital strategies that can be used as a foundation for your community engagement practices.
Important Note:
This training series is exclusively open to our paid members and C4C Fellows.
Training sessions will take place on WebEx and registered attendees will receive the event link prior to the session.
If you have any questions, feel free to contact marzie@codefor.ca.
About the Presenter: Lisa Brody Hoffman is the former Chief of Staff and Director of Community Engagement for Toronto City Councillor Kristyn Wong-Tam. She has led over 20 large-scale public consultations and engagement campaigns with thousands of residents across the City of Toronto, and managed digital-first advocacy campaigns for a diversity of non-profit clients. She bridges the world of municipal government, community engagement and human-centred design, while always placing access, equity and accessibility as her guiding star. She believes that public consultations should be fun, engaging and beautifully designed from start to finish, with care and compassion for the participants and end-users of any given policy initiative.