Travailler à Code of Canada
Montrons ce qui est possible, ensemble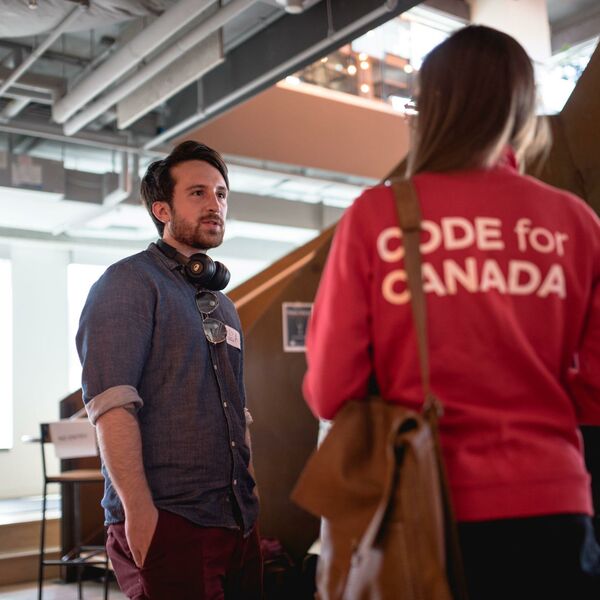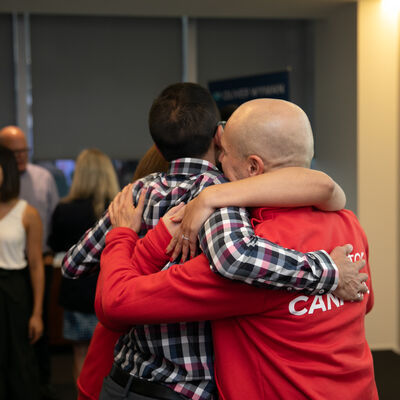 Joignez-vous à l'équipe !
Si vous croyez au pouvoir de la technologie, du design et de la collaboration pour faire une vraie différence dans la vie des gens, vous aimerez notre travail. Si vous croyez à l'inclusion, à la transparence et à l'amélioration continue, vous aimerez nos méthodes.
Et si vous partagez nos passions et nos valeurs, alors nous voulons travailler avec vous !
What is a Code for Canada Collaborator?
Code for Canada collaborators are digital professionals that work in multidisciplinary teams on fixed-term contracts with government host teams. They help their government partners build their digital capacity by modelling digital approaches and principles while building something meaningful. Teams have the opportunity to rapidly deploy technology that is easy to use, grounded in user research, and refined through iterative prototyping.
All collaborators become part of our collaborator network. As opportunities become available, our collaborators are called on to take on projects that matter.
Why become a collaborator?
Communities of practice:
You'll get to build connections with like minded professionals in your field at all levels of their career. Junior collaborators can benefit from feedback and mentorship while senior collaborators have the opportunity to develop their coaching, management and leadership skills. Hone your technical skills with the support of industry experts.
Comprehensive onboarding:
New to civic tech or digital government? Code for Canada's onboarding program will cover all you need to know to be prepared to work in the public sector. Beyond the technical, we'll help you build up important skills around client and stakeholder management, bureaucracy hacking, working in the open, and more.
Ongoing opportunities:
After you complete an active contract, you're invited to stay in our network and raise your hand for any upcoming projects. In addition, you'll be invited to Code for Canada events and webinars to connect with like-minded tech professionals who want to work on meaningful projects.
Perspectives de carrière (uniquement disponible en anglais)
Intermediate Developer - RCMP
What makes a good Code for Canada Collaborator?
Able to work independently
You are self-motivated and know to ask for help when you need it.
Teachers and coaches, at heart
While embedded in government teams, you'll be modeling the culture change and digital ways of working to public sector teams. You collaborate with empathy at heart and can meet government teams where they are in their digital transformation journey.
Open to learning
You view every opportunity as a learning experience and know there's much to learn from your government partners. You're curious and eager to explore how practices such as agile and lean startup can be used to better understand problems faced by governments.
Highly collaborative
You are able to actively work with teammates as a partner, motivator and teacher. You openly and directly provide and ask for feedback, and you want to work with governments as partners.
Comfortable wearing many hats
In small teams, it's vital that teammates are able to jump in and out of roles and tasks to push their product forward. You are a scrappy, resourceful and creative problem solver.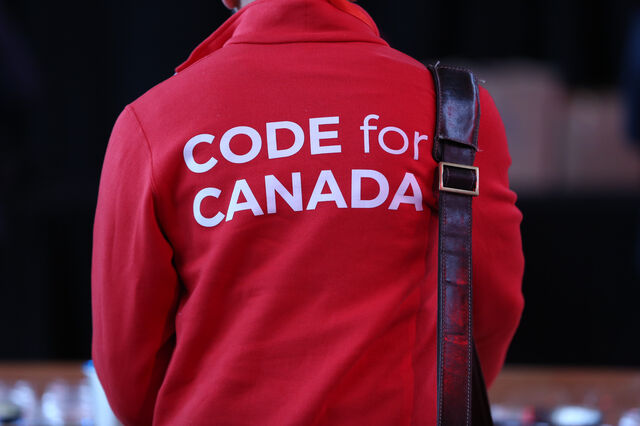 Code for Canada encourage un environnement exempt de discrimination et fait la promotion active de l'inclusion. Nous encourageons les individus appartenant à des groupes sous-représentés à poser leur candidature.

« Nous travaillons dur pour faire de Code for Canada un lieu de travail dont nous pouvons être fiers : c'est une équipe qui soutient la croissance et qui encourage ses employés à être eux-mêmes. »