Civic Hall Toronto: Members Shareout (February)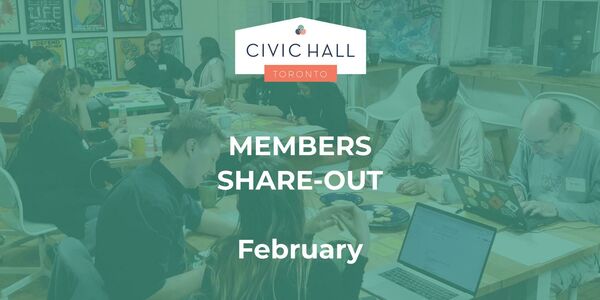 Event Details
Date & Time
February 18, 2021
12:00pm - 1:00pm
Location
Civic Hall Toronto
Register
Join your colleagues from the Big Data Innovation team (City of Toronto) to hear about their recent challenges and celebrate their wins!
About this Event
Good news!
Member Shareouts (formerly Members Morning) are coming back 🎉
Going forward, we'll hold monthly sessions where our members can meet their colleagues from other divisions in the public sector, share their experience and perhaps celebrate their wins; whether big or small!
Each session, we'll ask one of the members to facilitate the discussion.
This time, on February 18th (12:00 -1:00 PM) your colleagues from the Big Data Innovation team at the City of Toronto will have the mic to discuss the following questions:
What challenges or opportunities have other teams faced or identified in their organizations while adopting data-driven practices?
What channels or tools do they use to more broadly disseminate your work to external partners and/or the public?
What recruiting channels have they used to attract diverse and skilled applicants within the government hiring process?
If any of these questions is relatable to your challenges, and you'd like to hear your colleagues perspective on them, join this session.