Announcing Code for Canada's Innovation Fund (and where we're starting)

September 28, 2021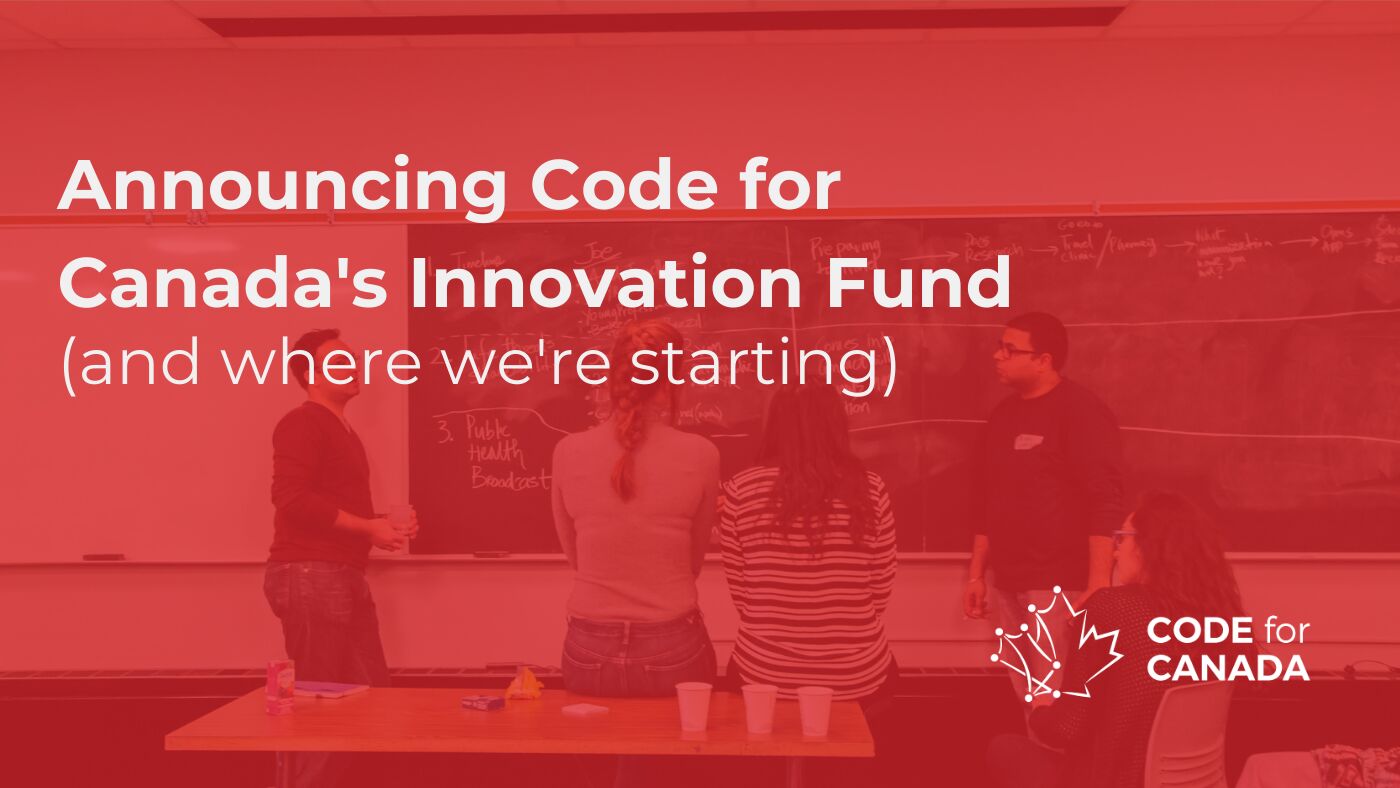 We're excited to announce that we'll be launching a civic tech project focused on progressing the Truth and Reconciliation Commission of Canada's Calls to Action, which are designed to redress the legacy of residential schools and advance the process of reconciliation with the Indigenous and First Nations peoples of Canada.
With thousands of unmarked children's graves being uncovered at residential school sites, I've been reflecting on the role of civic tech and Code for Canada in supporting Indigenous communities. As an organization with "Canada" in our name, our commitment to creating a pathway to Reconciliation is central in our mission to support positive, progressive and sustainable transformation in governments that can serve all residents.
When I became Executive Director of Code for Canada, I made a commitment to find ways to tackle public -- not just public sector -- challenges. For most of our history, Code for Canada has focused on working with government partners to develop digital capacity and build user-centred public services. And we've achieved great outcomes, from helping replace legacy systems in city government to introducing Speculative Design to government teams.
But we're also ready to get back to our roots — collaborating with civic-minded folks to find solutions to issues that impact our communities. I believe Code for Canada has a role to play in helping to address our country's most pressing challenges.
Enabled by a generous donation from Fast Forward and BlackRock, Code for Canada has started a new Innovation Fund. The Innovation Fund will provide dedicated resources and support to work with civic technologists, community leaders, and residents to work on civic issues that matter. We'll be expanding support for special community-focused civic tech projects that are typically non-revenue generating, but high on social impact. Our Truth and Reconciliation project will be the first.


At every stage in this project, we're committed to working with Indigenous communities and conducting deep consultation with relevant groups. While we've just begun scoping this project, we invite you to keep an eye on our channels for future updates as we start the planning and scoping process. We're big fans of working in the open and we're excited to bring you on this journey with us.
Interested in supporting the Code for Canada Innovation Fund? Reach out to Laura, our Director of Strategic Partnerships at laura@codefor.ca.
The Latest
From the Code for Canada Blog